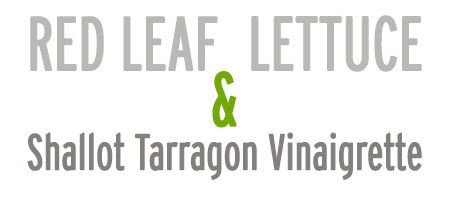 WHILE dining at Los Angeles restaurant, Petite Trois, I found myself drooling over Ludo the most simple of salads... I shook down the sous chef for the ingredients to the dressing, which as turns out, is a basic among the Frenchies. So simple, so delectable, so easy, I also use this dressing as a sauce or instead of mayo in egg salad. Additionally, since that evening, my love affair with the shallot has reached new heights and don't even get me started on tarragon. How had I overlooked tarragon for so long? 
*If you happen to be in LA, do yourself a favor and check out Petit Trois. You'll almost forget you're dining in America in the best way possible. If you live in the San Fernando Valley, brace yourself for the 2nd outpost of this culinary gem, which is slated to open in Sherman Oaks by Fall '17.
INGREDIENTS
2 tblsp finely chopped shallot
1 tblsp chopped tarragon
1 tblsp good quality dijon mustard like Maille
1 tblsp white wine vinegar
1/4 cup good quality extra virgin olive oil
1/2 tsp sea salt
1 head of red leaf lettuce hand washed and hand torn 
INSTRUCTIONS
1) Combine all ingredients in a jar with a tight fitting lid. I dig these.
2) Shake it like a polaroid picture.
3) Let flavors combine for at least 15 minutes.
4) Delicately toss lettuce with dressing to taste.